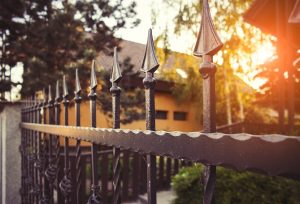 Wrought iron furnishings are infamous for executing a timeless elegance throughout the interior of a home. An Old World design, wrought iron creates an old-fashioned and rustic feel as it is a classic element. Hand-forged iron has been used as a building material for centuries and it can be used in a variety of areas such as doors, lighting fixtures, furniture, and so much more. Whether you are aiming for a modern, steampunk vibe or a rustic and antique-like atmosphere, wrought iron can help you achieve exactly that. Don't be afraid to attempt a unique direction when wrought iron guarantees a look that you'll be nothing but satisfied with! If you're wondering how exactly you can incorporate wrought iron into your home, we have everything you need to know to make a grand appearance. 
Lighting
Lighting is one of the most classic ways to incorporate wrought iron into a home, with old iron lanterns being a traditional favorite by many. Old fashioned iron lamps that burn oil are also available. Homeowners can also take a different track and choose wall sconces and torches that have modern-day bulbs wired in. If you have enough space in an entryway, you can consider a wrought-iron chandelier or make use of a pendant light if you find yourself limited with space. Wrought-iron candleholders can enhance the decor of a table or they can be used as old-fashioned chains to hang lights from the ceiling.
Cabinet Hardware and Doors
If you want to go with a more subtle approach of wrought iron, this material can also be used as hardware for your cabinets. Doorknobs and handles provide you with the opportunity to use wrought iron without it dominating the room's design and aesthetic. Another great alternative to put wrought iron to use is via door hinges, door handles, and locks. Wrought iron sheets may also be used to cover doors as a veneer, either for regular house doors or for cabinet doors themselves. 
Tables
Wrought-iron furniture define's a room's design with a subtle yet industrial look. One way you can go about adding tables with a rustic feel is by looking into a wrought-iron coffee table with a glass surface, showcasing the metal beneath. Another option is a table that is completely built out of metal, with a latticework top or even a solid surface. Wrought-iron tables with granite slabs for the top lining are another option, although wood, tile, cultured marble and numerous other materials are complimentary with wrought iron.
Furniture 
Wrought iron beds range from rustic to exquisitely elegant. In a lodge setting, iron beds often feature Western motifs such as cowboys, horses, wildlife, or evergreen trees and combine pine poles with hammered or flat iron pieces. More delicate styles might include gently curved scrolls, leaves and branch designs, or simple, clean, straight lines. Tables, chairs, benches, and other furnishings that feature scrolling, curvy, feminine lines are typical of decorating styles such as French country or Victorian. Wrought iron hinges, heavy iron latches, straps, corner brackets, knobs, handles, and pulls give furniture a rustic look that is commonly seen in Mexican and Spanish Hacienda-style decor. 
Garden 
If you want to add a hint of romance to your garden, wrought iron is the way to go. Wrought iron wall planters, flower boxes, and benches can help you achieve a timeless look that can keep the heads of your guests turning to adore every corner. Iron-laden patio furniture not only looks attractive but it will also last for years if properly cared for. Tiered plant stands, trellises, hanging baskets, tabletop candle holders, garden stakes, and iron wind chimes easily fit in both country and urban settings, whether the style of the wrought iron is contemporary of more traditional. You can also choose an iron welcome sign with a motif that fits your lifestyle, interests, or the surrounding area of your home's garden. 
Atrium Wrought Iron: Always Prepared to Give Your Home the Makeover It Deserves! 
Here at Atrium Wrought Iron, we strive to meet the look that every client envisions for the interior and the exterior of their home. Wrought iron is an ideal material guaranteed to suit the style of each and every home. Contact us today to learn more about how we incorporate wrought iron and other timeless materials in your home!