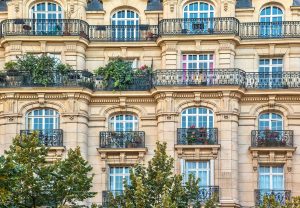 At the center of one of the most beloved romantic scenes in all of literature and part of the most classic love story of all time, the balcony is always there to add class and beauty to any home's exterior. The balcony scene in Romeo and Juliet is timeless and the balcony was the symbolic separation between the two young lovers before their lives would cross forever. You might remember the famous scene where Juliet stares at the stars outside when Romeo sneaks into her yard and through the railings of the balcony they speak to each other and agree to marry. Atrium Wrought Iron might not be experts in romantic stories, but we are experts in creating the most unique and beautiful wrought iron balconies that will add a level of sophisticated beauty to your home. So we thought we'd take a look at a short history of the balcony and how they have changed over the ages, never shedding that beauty they bring to every home. 
The name balcony is derived from the Italian word, "balcone" meaning scaffold. And so it refers to a protruding structure attached to the side of the building, typically supported by columns, brackets or cantilevered. Some way that the earliest balconies go back to the Ancient Greeks. These structures were first used as purely functional additions to a home or building. They were used to increase circulation in hot places and to add natural light. The balcony is an integral part of a building and so its design needs to be uniform and considered in context with the rest of the structure. There are a couple of classic designs that over the years have been altered. These include: 
The traditional Maltese balcony: The origins of the typical wooden Maltese balcony go back to the ancient Arabl world. It started as a wooden window frame that would allow residents of the house a view of the outside world without the ability of others to peek in. 
The Juliet balcony: You guessed it. It's called Juliet after Shakespeare's classic love story and most beloved heroine. A Juliet balcony is narrow and sits outside a window or pair of French doors on the second or upper story of a home. These are common architectural studies in Mediterrenean countries such as Italy and Spain. The famous star-crossed lovers, of course, were from Italy. Today, a Juliet balcony can have a simplified wrought iron railing or evoke a classic Victorian era-style design. 
In Britain and the UK, Juliet balconies go back all the way to the Georgian period. They were known as a feature that would create a prestigious appearance to any home or structure. In the early 19th century, the iron railings on these balconies were already a major appeal. Designs became more intricate and were seen among many important buildings. During the Regency period, mass production of cast iron work as fashion dictated the style of these designs and highly decorative railings were in vogue. In the early 20th century, balconies were often stretched to cover several windows and the emphasis in enjoying outside space and incorporating natural light was really highlighted. 
The balcony was really developed throughout Europe but made its way  into the states as well. We see them in early apartment tenement buildings to the White House or government buildings. Today, people frequently install balconies in their homes and many luxury apartment buildings also include a gorgeous wrought iron balcony to add an air of nature into the room. 
Enhancing a Space with Outdoor Features
If you ask anyone in the real estate business or pay attention to homebuyer trends or architectural trends of the 21st century, there are a couple of common themes including minimalism and the love for including more of the outdoors and natural light into the home. Because of this, balconies have certainly seen a resurgence in many homes, apartment buildings, and even office spaces. 
The Balcony in Famous Scenes and Historical Moments
So aside from the many decorative possibilities and the natural light that a balcony offers, there is also no denying that a balcony has been a place where many famous scenes have happened: some famous, some infamous. 
Popes have greeted and prayed with millions of Catholic worshippers from atop a balcony, as did Pope John Paul II from the Balcony in Buenos Aires, Argentina. Madonna played the famed Evita, and sang the famous "Don't Cry For Me," also standing on a balcony. Martin Luther King was shot in the balcony of his second-floor room of the Lorraine Motel in Memphis, Tennessee. Then there is, of course, the famous Romeo and Juliet scene, where they declare their love to each other. 
The balcony, just like many other architectural features, has become part of history and part of our everyday lives. Why not build a balcony in style by adding a wrought iron railing with unique and beautiful designs. 
Marking the Difference with Wrought Iron  Railings for Your Balcony
There is no shortage of famous balcony scenes. Here at Atrium Wrought Iron, we are experts at creating unique and appealing wrought iron designs for your home or apartment buildings balcony. There is something about a balcony that simply evokes a time that is more romantic, adventurous, and in love with nature. A balcony is more than just an added window: it adds dimension, it adds class, and it gives you a view, perhaps of the stars at night, unlike any other.