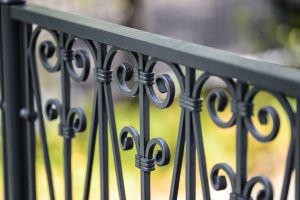 As we touched on in our previous blog, wrought iron is a versatile material, perfect for a number of projects around the house. Railing for your staircase, pool fencing, and gating are all great uses for wrought iron. But those are the most common uses for wrought iron, and only scratch the surface for what the alloy can do. In this article, we'll touch on some lesser-known ideas that incorporate the adaptable material. 
Bathroom Counters and Cabinets
Your bathroom is your escape, where you can be your full self. To many, including us, our bathroom is an important area in your home—not just because that's where we wash up. But did you ever consider adding wrought iron to your bathroom? Wrought iron can make your cabinets and counters sturdy and strong but also add to your bathroom's aesthetic as well.
Home Decor
Iron art always looks great, and we can do it all. From simple hooks to big wall-mounted pieces, we have done just about every type of design. And we love doing these pieces, so if you've got an idea we can make it happen. 
Outdoor Furniture
When the weather starts to cool down, many El Pasoans start to take events outside. We make great outdoor furniture too, like tables and chairs that can match the look of your outdoor space. We can do just about any style too, for whatever you plan to use your space for. 
Atrium Can Make it Happen
If you've got any home ideas that you'd want to be made in wrought iron, stainless steel or aluminum, Atrium Wrought Iron can help. Contact us to turn your ideas into reality!